REAL SOLUTIONS FOR REAL SKIN CHALLENGES

DRY SKIN...LIP LINES...DULL SKIN....PROBLEM SKIN
'I CAN SHOW YOU HOW TO LOOK YOUNGER & TAKE YEARS OFF YOUR FACE NATURALLY AT ANY AGE!'
Gregory Landsman
Global Beauty Expert & Best Selling Author

FOR THE FIRST TIME THE PROFESSIONAL SKIN TREATMENTS USED IN GREGORY LANDSMAN'S EXCLUSIVE GENEVA TREATMENT ROOM CAN BE ACCESSED ONLINE
FIND A TREATMENT TO...

Reduce fine lines and wrinkles

Improve skin firmness

Hydrate and restore super dry skin

Reduce lip lines

Brighten dull skin

Revitalise the skin on the hands

Address problem skin

Visibly reduce skin aging naturally
DISCOVER WHERE TO FIND AND HOW TO USE THE MOST POWERFUL ANTI-AGING AND SKIN REGENERATING INGREDIENTS IN YOUR KITCHEN AND TAKE YEARS OFF YOUR FACE.

Every PROFESSIONAL SKIN TREATMENT prescriptive provides you with step by step written instructions for each treatment that you can prepare from simple ingredients that are readily available in your own home, to support you to achieve younger, healthier and more vital looking skin.
Every

PROFESSIONAL SKIN TREATMENT

shows you where to find and how to use active anti-aging ingredients acknowledged by science as some of the most powerful skin 'revitalisers' available today - Alpha Hydroxy Acid, Retina A and skin revitalising antioxidants, that stimulate cell regeneration and visibly improve the texture of your skin.
DE-STRESS & AGE LESS!™
GET SKINFIT!
BASED ON SCIENCE, BEST SELLING AUTHOR & GLOBAL BEAUTY & WELLNESS EXPERT, GREGORY LANDSMAN'S GL METHODS TO STIMULATE COLLAGEN SYNTHESIS AND PREVENT PREMATURE AGING ARE USED GLOBALLY, TAUGHT IN UNIVERSITIES & RECOMMENDED BY DOCTORS!
WHAT PEOPLE ARE TELLING US ABOUT THE TREATMENTS...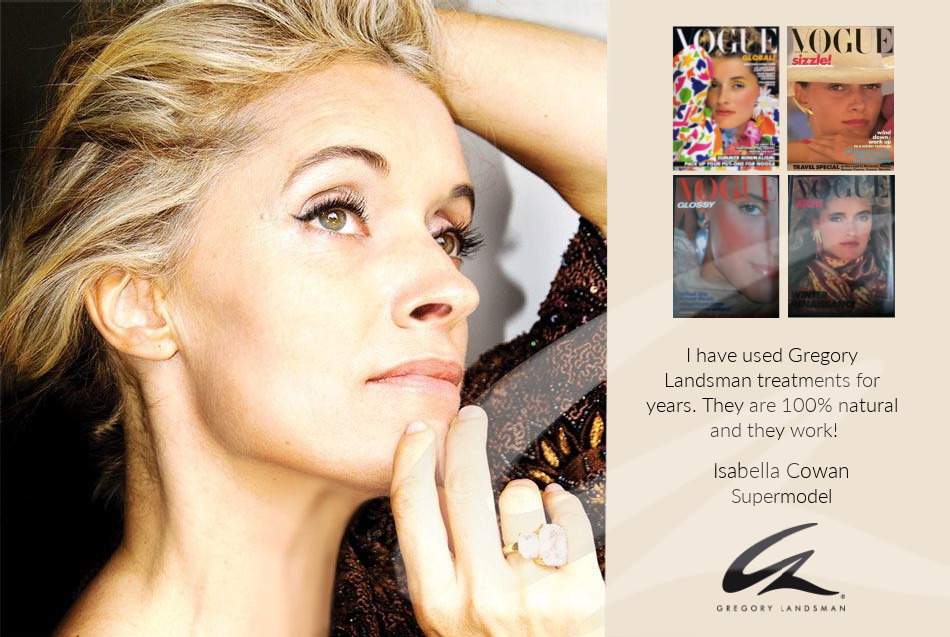 'I am 68, but I stopped using expensive face creams because I thought it was a waste of money. I tried the five-day intensive and I was impressed with the results. My skin looked noticeably smoother, more hydrated and healthy. I have recommended it to my friends.' Gayle, U.S.A.
'The dry treatment for hands lives up to its promise. My skin was really dry and I suffer from mild eczema, which as a bonus it cleared up as well. I could feel the treatments soaking into my skin.' Sandra U.S.A.
'I noticed lip lines forming and was thinking about getting some filler to smooth them out. A friend of mine recommended this lip treatment and after the first few days I saw a genuine improvement.' Judith, U.K.
'I have suffered from dry skin most of my adult life and thought I might as well give the dry skin treatment a try. I was surprised by the results and how little it cost to get better results than anything I have tried from a drugstore in recent years.' Julie, U.S.A.
'I have tried many natural products to relieve my dry skin and stumbled across this on my Facebook. The dry skin treatment gives 'instructions to make the formulas and they made a real difference to my skin. Good discovery - will be trying the other treatments.' Mary, New Zealand
'I was so happy with the intensive hand treatment. My hands were totally dehydrated in a way that they had never been from hand washing and disinfectant. After doing the treatments they felt completely different.' Jackie, Australia

100% SECURE CHECKOUT